Versatile
The MAN CLA is specially adapted to geographical requirements and the type of work for which it will be used. Whether as a long-haul truck, semitrailer tractor, tipper or mobile mixer – the MAN CLA meets the varied demands of long-haul, building site and distribution traffic, and can even be used on surface mining sites or as a heavy-duty vehicle.
Reliable and cost-effective
Rely on advanced technology that has spent decades being developed and improved. The MAN CLA is based on the proven MAN 2000 series, which ensures safe and reliable operation. The components used in the MAN CLA are famous for their long service life and ease of servicing.
Robust
When road conditions get tough, you need a truck you can rely on that meets all the challenges of building site, distribution and long-haul traffic. The extremely strong structure of the chassis and its good body-mounting abilities provide a high payload.
Local assembly
The MAN CLA is assembled in state-of-the-art facilities in India and then delivered to customers in India or exported abroad. The MAN CLA can also be shipped as a "truck in a box" and assembled locally by experienced MAN technicians.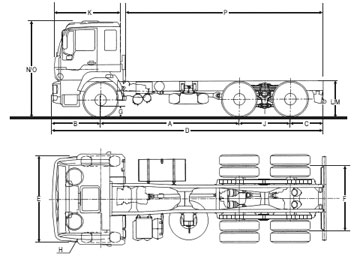 Technical Specifications
| | |
| --- | --- |
| Chassis | DIMENSIONS in millimeters (mm) |
| Wheelbase | (A) 3825 |
| Front Overhang | (B) 1293 |
| Rear Overhang | (C) 900 |
| Overall Length | (D) 7507 |
| Front Track | (E) 2075 |
| Rear Track | (F) 1815 |
| Minimum Ground Clearance (at front) | (G) 385 |
| Turning Circle Diameter (meters) | (H) 19.5 |
| Distance between Two Rear Axles | (J) 1400 |
| Cabin Length | (K) 1790 |
| Over Chassis Height from Ground (Unladen) | (L) 1157 |
| Chassis Height from Ground (Laden) | (M) 1107 |
| Overall Height from Ground (Unladen) | (N) 2878 |
| Overall Height from Ground (Laden) | (O) 2838 |
| Frame Length behind Cab | (P) 5399 |
| | | |
| --- | --- | --- |
| | Unladen (Kerb Weight) (kg) | Laden (kg) |
| Front Axle | 3550 | 7500 |
| Rear Axle | 4300 | 23000 |
| Total | 7850 | 26000 |
Model : CLA 26.280 6x4 TIPPER
Engine : MAN D-0836
- Six-cylinder in-line Diesel Engine with Direct Injection, Turbocharged and Intercooled
- Displacement 6.9 Liters
- Power output 280 hp (206 kW) @ 2400 rpm
- Torque 1100 Nm @ 1300-1700 rpm
- Economic speed range 1400-1700 rpm
- Emission EURO-III
Clutch :
- Single dry plate pull type power assisted asbestos free clutch
- Clutch Plate Diameter 430 mm
Gearbox : ZF 9S-1110 TO
- 9-speed synchronised range gearbox with crawler and reverse gears. Over Drive
- Force-feed oil lubrication by oil pump. Full flow oil filter
Exhaust : Horizontal Exhaust toward rear
PTO : PTO Tipper Pump
Front Axle : MAN Heavy Duty straight FM 08 Type
Rear Axle : MAN FORCE H9 & HD9 13120 Planetary
- Hub reduction with inter Axles differential lock
- Bogie suspension on Tandem Axles with stabiliser bar and radius rods to ensure stability in off road conditions
- Rear Axle Ratio 7.63 : 1
- Tyre : 11.00 R20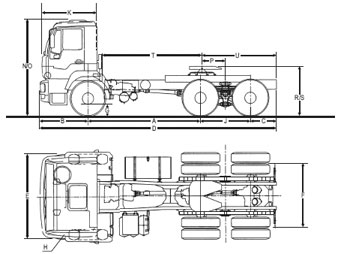 Technical Specifications
| | |
| --- | --- |
| Chassis | DIMENSIONS in millimeters (mm) |
| Wheelbase | (A) 3175 |
| Front Overhang | (B) 1293 |
| Rear Overhang | (C) 725 |
| Overall Length | (D) 6593 |
| Front Track | (E) 2075 |
| Rear Track | (F) 1815 |
| Minimum Ground Clearance (at front) | (G) 273 |
| Turning Circle Diameter (meters) | (H) 18.5 |
| Distance between Two Rear Axles | (J) 1400 |
| Cabin Length | (K) 1490 |
| Overall Height from Ground (Unladen) | (N) 2766 |
| Overall Height from Ground (Laden) | (O)2726 |
| King pin offset from Rearmost Axle | (P) 577 |
| King Pin Height from Ground (Unladen) | (R) 1398 |
| King Pin Height from Ground (Laden) | (S) 1345 |
| King Pin offset from Cabin back | (T) 2872 |
| King Pin offset from Chassis end | (U) 2002 |
| | | |
| --- | --- | --- |
| | Unladen (Kerb Weight) | Laden |
| Front Axle | 3430 | 6000 |
| Rear Axle | 4350 | 19000 |
| Total | 7780 | 25000 |
Gross combination weight – 44000*
* when coupled with suitable 3 Axle Semi Trailer
Model : CLA 25.280 6x4, Tractor
Engine : MAN D-0836
- Six-cylinder in-line Diesel Engine with Direct Injection, Turbocharged and Intercooled
- Displacement 6.9 Liters
- Power output 280 hp (206 kW) @ 2400 rpm
- Torque 1100 Nm @ 1300-1700 rpm
- Economic speed range 1400-1700 rpm
- Emission EURO-III
Clutch :
- Single dry plate pull type power assisted asbestos free clutch
- Clutch Plate diameter 430 mm
Gearbox : ZF 9S-1110 TO
- 9-speed synchronised range gearbox with crawler and reverse gears. Over Drive
- Force-feed oil lubrication by oil pump. Full flow oil filter
Exhaust : Upswept, Left
Front Axle : MAN Heavy Duty Dropped FM 08 Type
Rear Axle : MAN H9 & HD9 13120 Planetary
- Hub reduction with inter Axles differential lock
- Bogie suspension on Tandem Axles with stabiliser bar and radius rods to ensure stability in off road conditions
- Rear Axle Ratio 5.26 : 1
- Tyre : 11.00 R20
Technical Specifications
| | |
| --- | --- |
| Chassis | DIMENSIONS in millimeters (mm) |
| Wheelbase | (A) 4600 |
| Front Overhang | (B) 1293 |
| Rear Overhang | (C) 2650 |
| Overall Length | (D) 10032 |
| Front Track | (E) 2075 |
| Rear Track | (F) 1815 |
| Minimum Ground Clearance (at front) | (G) 273 |
| Turning Circle Diameter (meters) | (H) 21.0 |
| Distance between Two Rear Axles | (J) 1400 |
| Cabin Length | (K) 1790 |
| Chassis Height from ground (Unladen) | (L) 1045 |
| Chassis Height from Ground (Laden) | (M) 995 |
| Overall Height from ground (Unladen) | (N) 2766 |
| Overall Height from ground (Laden) | (O) 2726 |
| Frame Length behind Cab | (P) 7924 |
| | | |
| --- | --- | --- |
| | Unladen (Kerb Weight) | Laden |
| Front Axle | 3430 | 7500 |
| Rear Axle | 4350 | 21000 |
| Total | 7780 | 26000 |
Model : CLA 26.280 6x4 CHASSIS
Engine : MAN D-0836
- Six-cylinder in-line Diesel Engine with Direct Injection, Turbocharged and Intercooled
- Displacement 6.9 Liters
- Power output 280 hp (206 kW) @ 2400 rpm
- Torque 1100 Nm @ 1300-1700 rpm
- Economic speed range 1400-1700 rpm
- Emission EURO-III
Clutch :
- Single dry plate pull type power assisted asbestos free clutch
- Clutch Plate Diameter 430 mm
Gearbox : ZF FORCE 9S-1110 TO
- 9-speed synchronised range gearbox with crawler and reverse gears. Over Drive
- Force-feed oil lubrication by oil pump. Full flow oil filter
Exhaust : Upswept, Left / Horizontal Exhaust*
Front Axle : MAN Heavy Duty FM 08 Dropped Type
Rear Axle : MAN FORCE H9 & HD9 13120 Planetary
- Hub reduction with inter Axle differential lock
- Bogie suspension on Tandem Axle with stabiliser bar and radius rods to ensure stability in off road conditions
- Rear Axle Ratio 5.26 : 1
- Tyre : 11.00 R 20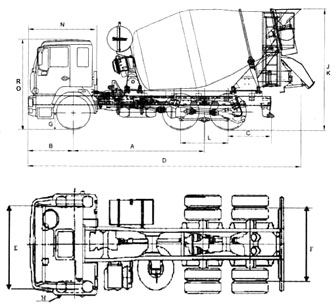 Technical Specifications
| | |
| --- | --- |
| Chassis | DIMENSIONS in millimeters (mm) |
| Wheelbase | (A) 3175;3825 |
| Front Overhang | (B)1293 |
| Rear Overhang | (C) 900 |
| Overall length | (D) 7420;8070 |
| Front Track | (E) 2075 |
| Rear Track | (F) 1815 |
| Minimum Ground Clearance (at front) | (G) 273 |
| Turning Circle Diameter (meters) | (H) 18,5;19,5 |
| Distance between Two Rear Axles | (L) 1400 |
| Cabin Length | (N) 1790 |
| Maximum Height from ground (Unladen) | (J) 3590 |
| Maximum Height from ground (Laden) | (K) 3550 |
| Height to cab top, unladen | (R) 2766 |
| Height to cab top, laden | (O) 2726 |
| | | |
| --- | --- | --- |
| | Unladen (Kerb Weight) | Laden |
| Front Axle | 3.550 | 7.500 |
| Rear Axle | 4.300 | 23.000 |
| TOTAL | 7.850 | 26.000 |
Model : CLA 26.280 6x4 Mixer Truck
Engine : MAN-D0836
-Six cylinder in-line Diesel Engine with Direct Injection Turbocharged and Intercooled
-Displacement 6,9 liters
-Power Output 280 HP ( 206 kW) @ 2400 rpm
-Torque 1100 Nm @ 1300 – 1700 rpm
-Economic Speed Range 1400-1700 rpm
-Emission EURO-III
Clutch :
- Single dry plate pull type power assisted asbestos free clutch
- Clutch plate diameter 430 mm
Gearbox : ZF FORCE 9S-1110 TO
- 9 Speed Synchronized range gearbox with crawler and reverse gears
- Force-Feed oil lubrication by oil pump, full flow oil filter
Exhaust : Horizontal Exhaust toward rear
PTO : Engine PTO
Front Axle : MAN Heavy Duty FM 08 Dropped Type
Rear Axle : MAN FORCE H9 & HD9 13120
- Hub Reduction with inter axles differential lock
- Boggie suspension on Tandem Axles with stabilizer bar and radius rods to ensure stability in off road conditions
- Planetary axle Ratio i : 5,26
- Tyre : 11.00 R 20