XAT(V)S 186 COMPRESSORS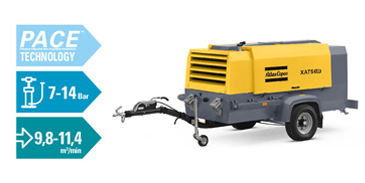 The versatile XAT(V)S 186 range is comprised of two models featuring an intuitive PACE system (Pressure Adjusted through Cognitive Electronics), which enables multiple pressure and flow settings to help users match air flow and pressure to their application needs, without needing multiple compressor units.

Our state-of-the-art air element and John Deere stage IV engine, coupled with the PACE system, ensure higher efficiency, longer service intervals, unmatched reliability, increased lifetime and lower cost of ownership. Operators using multiple machines to cover flow demands up to 11m3/min and pressures from 7 to 14 bar now need only one compressor.